Updated On: May 140, 2020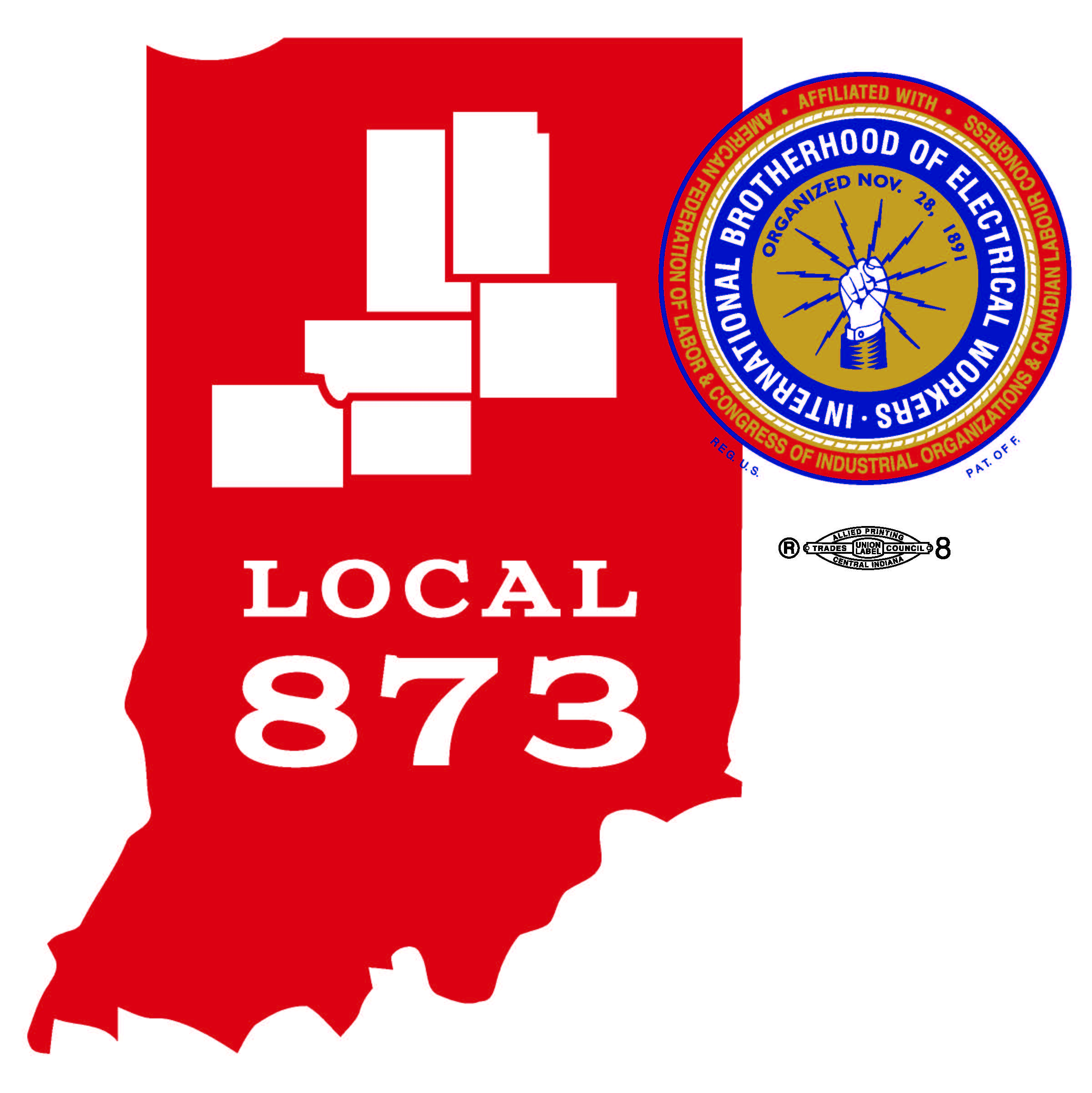 IBEW 873 Timeline of History
The International Brotherhood of Electrical Workers Local Union 873 was chartered on January 9th, 1919 in Kokomo, Indiana. The first Union Meeting was held on January 20, 1919. We had our first article in the Electrical Worker in June of 1920. Unions Meetings were held at the Labor Temple on the corner of Superior and Main Streets here in Kokomo. In 1921 we got a house of our own to have meetings in due to the fact that "The bunch was peeved because they were bothered at their meetings so much by dances, boxing matches, and other things."
In 1924 the Journeyman scale of wages was $0.95 per hour. Foreman made $1.12 per hour, and Apprentices made $0.45 - $0.75 per hour. In 1925 Spearmint Gum was $0.10 a pack! In 1925 the Local moved its meetings to the Gates Clothing Company. In 1926 the membership of Local 873 grew to 30 and the Dirigold Corporation from Sweden signed on with Local 873 to manufacture their steel here in the US. Union Meetings moved back to the Labor Temple in 1926 as well. 1927 marked a milestone for wages in 873 as the Journeyman scale reached $1.00 per hour!
1929 was a big year for our Local. Kolux Lighting Company began operations. We finally fought and won a five day work week and double time on all overtime. Also in 1929 the Building Trades donated all the labor to remodel the Gas Company office building for the Tuberculosis Association. The electrical for this remodel took two and one-half hours and encompassed ten rooms!
The year was 1936 and a company known as Delco Electronics came to Kokomo. One year later in 1937 the Chrysler Corporation came to Kokomo. By the time 1951 got here Kokomo's Local 873 was known as the "Biggest Little Local in the International". That same year we completed two major expansions at RCA in Marion, IN.
1952 was a monumental year for 873. The Dana Corporation Plant was built in Marion by Moorehead Electric. Then the Mid-West Paper Plant was established in Marion and wired by Hatfield Electric. The United States Navy reactivated the Bunker Hill Military Base in Bunker Hill, IN. Indiana Public Service build a huge substation in Kokomo with Hatfield Electric. That same year Moorehead Electric wired the structures for Anaconda Wiring Company, Essex Wire Company, Kresge Store, and the YMCA, all of which were located in Marion, IN. General Tire was getting ready to take off as well! Local 873 had among its ranks Kolux Sign Company, H and K Sign Company, two motor shops, and the entire scope of Lineman's work. IBEW L.U. 285, located in Peru IN, amalgamated into Local 873. In 1952 an article was written in the Electrical Worker stating that "The Great Provider has really blessed L.U. 873." We couldn't agree more.
Chrysler built a massive plant in Kokomo in 1956 using Hatfield Electric to do the wiring. Fisher Body of General Motors was about 40% finished. Hatfield Electric and Hall Electric each did part of that build. In 1970 the Journeyman scale soared to $6.30 per hour and a Health and Welfare plan was started with $0.20 per hour going into it. In 1972 the Local moved into the IBN Saud Grotto Building on US 31. The IBEW Local 873 Money Purchase Pension Plan and Trust was started in 1974.
Kolux Sign Company made headlines in 1977 when they made the sign for Target which at that time was one of the largest in the country. Then in 1979 Kolux Sign Company once again had the national spotlight on them when they made the National Electric Sign of the Year Award for Union 76. The sign was a 7' sphere.
The 1980's were a time of prosperity for our local. The auto plants were expanding and work was good. In 1982 we moved into the Union Hall we still occupy. In 1988 our wireman donated their time and skills as volunteer electricians for the Pan Am Games.
As the years have gone by Local 873 has stood the test of time. We celebrated our 100 Year Anniversary in 2019. Many things have changed over the years with technology, safety, education, politics, and the way we work. We must continue to change with the times in certain aspects but never change in the fundamentals of what it means to be Union Electricians. We must continue the good fight to maintain the highest standard of quality and value for our customers. We must always strive for brotherhood internally and solidarity externally. With the current administration of Mike Young and Zach Walker this vision will continue to be a reality.